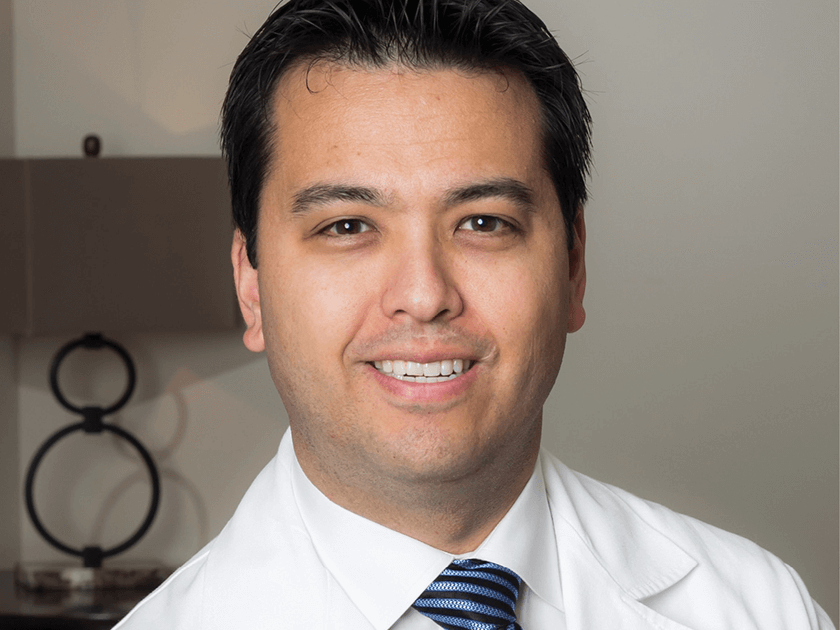 Anthony Echo MD, FACS, is an assistant professor in the division of plastic and reconstructive surgery at the Houston Methodist Hospital in Houston, TX. He also has joint appointments as an assistant professor of plastic surgery at Weill Cornell Medicine in New York, NY and clinical assistant professor of surgery at Texas A&M University in College Station, TX.
Professional Involvements
Dr. Echo has authored more than 50 publications in peer-reviewed journals and scientific textbooks. His clinical and research focus is on complex peripheral nerve surgery, nerve pain, Targeted Muscle Reinnervation (TMR) for amputation stump pain, sports hernia and return to play, and microsurgical breast reconstruction with the restoration of sensation. He was the recipient of the 2016 Dyer Fellowship award at the Houston Methodist Hospital to travel to the Aspetar Hospital in Doha, Qatar to personally work with Drs. Ulrike Muschaweck and Zarko Vuckovic on sports hernia repairs and core muscle injuries. He is one of the only surgeons in the entire United States offering the Muschaweck Minimal Tension Repair technique to our athletes.
Dr. Echo is an expert in microsurgery and peripheral nerve surgery. He is referred to patients across the country for his expertise in microsurgery and peripheral nerve surgery. Other clinical areas of interest include core muscle injuries, surgical treatment of migraine headaches, DIEP flap breast reconstruction, and Thoracic Outlet Syndrome.
For the past 8 years, Dr. Echo has been treating chronic pain in amputees by addressing the neuromas in the stumps. Either through a procedure termed targeted muscle reinnervation (TMR) or regenerative peripheral nerve interface (RPNI), he is able to address the phantom limb pain in the limb with excellent success.
Dr. Echo completed a plastic surgery residency at Baylor College of Medicine in Houston, TX inside of the world-renowned Texas Medical Center. While residency, he completed rotations a Ben Taub Hospital, MD Anderson Cancer Center, Houston Methodist Hospital, Texas Children's Hospital, and the Houston VA hospital. Upon completion of his Chief year in plastic surgery, he was one of two people accepted into the prestigious Stanford University Microsurgery fellowship where he was able to work with some of the world's experts in microsurgery, breast reconstruction, and peripheral nerve surgery. He then had the privilege to train under, Dr. Susan Mackinnon, one of the pioneers in peripheral nerve surgery at the Washington University in St. Louis in a peripheral nerve fellowship. He was eventually recruited back to the Houston Methodist Hospital to provide breast reconstruction and peripheral nerve surgery for patients seeking these procedures in Texas.
He is board-certified through the American Board of Plastic Surgery. He is also a fellow of the American College of Surgeons. He has served as a scientific peer reviewer for several journals, including the Annals of Plastic Surgery, Microsurgery, Hand, and the Journal of Hand Surgery. He also serves on committees for the American Society of Plastic Surgery, American Society of Reconstructive Microsurgery, and the Texas Society of Plastic Surgery. Dr. Echo has received grant funding from the Plastic Surgery Foundation, Ethicon, and the Houston Methodist Hospital. One of his grants, allowed him to travel to Aspetar Hospital in Doha, Qatar to personally work with Drs. Ulrike Muschaweck and Zarko Vuckovic on sports hernia repairs and core muscle injuries.
Reviews
"Dr Echo is the best of the best he make miracles on my chronically migraines. I was going insane when he operated me. 8 months ago now I am absolutely Recommend Dr. Echo for migraines problems.. Thanks Dr. Anthony Echo for all his hard work you do ."
J.B.
Google
"Dr Echo is doing repair to my badly damaged bracial nerves. He and his surgical staff are the best I have ever delt with. I highly recommend him and his bedside manor"
K.H.
Healthgrades
"I was beyond impressed with my experience at this doctor's office. I was completely blown away by how helpful the staff was and how fast they were getting back to me! A lot of doctors don't realize how important it is to have this type of administration. The first point of contact is crucial!My appointment ran on time, Dr Echo was really knowledgeable and made me feel comfortable throughout the appointment! Dr Echo was on time the day of the surgery, Even though i was overwhelmed before the surgery, Dr Echo made me feel at ease and positive about my surgery. I would highly recommend this medical group!"
M.R.
Google
"Dr. Echo is a great doctor. I was very emotional through the process of my treatment as I was very scared. He and his staff were very kind to me and took time to explain things to me in a simple language that I could understand. I would highly recommend him. I am very happy with my results."
Anonymous
Healthgrades
"One of the most perfect hospital in this whole world."
N.H.
Google
Related Posts